In Mrs. Upsahl's third grade class we learned about the pioneers. It seems like everyone I know learned about the settlers around that time. We were quizzed about the Oregon Trail and its hardships, our teacher brought bonnets in to see what the womenfolk had to wear, and one day we even made buttermilk in the classroom.  And, of course, we read Little House in the Big Woods by Laura Ingalls Wilder.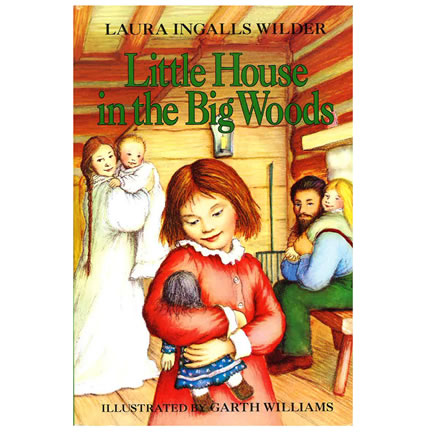 I was instantly hooked. Though we only had to read the first book in that series, I took it a few steps further—I devoured every single book in less than a month. I played The Oregon Trail computer game and pretended I was Laura Ingalls. I made bread and butter as a snack after school and pretended it was the coarse brown bread Ma made in The Long Winter, and that my Country Crock margarine was actually freshly churned butter from Ellen the cow. I even learned how to sew and instead of playing street hockey outside with the other kids in the neighborhood, I'd spend my afternoons with an embroidery hoop, cross-stitching flowers into linen. I read every single biography that had ever been written about Laura, and—this was before the Internet—would stare for hours (or at least many minutes) at the center inserts that featured black and white tintype pictures of Ma, Pa, Mary, Carrie, Laura and Grace.
It was so easy to get lost in that world. In Laura's world. The 1800s felt so inviting to me—never mind the backbreaking chores and the lack of modern a pliances!—I was convinced I was born in the wrong era.
As I grew older my maniacal devotion to the Ingalls clan waned a bit, and I didn't think about Laura for a long time. Then a few years ago I picked up a book from the library written by an equally fervent admirer, Wendy McClure's The Wilder Life: My Adventures in the Lost World of Little House on the Prairie. In it she traces the steps of the Ingalls family and fully immerses herself in everything Laura Ingalls Wilder. "I should read those books again," I thought to myself. But I didn't—until recently.
And I now know why: because it consumes my life. I was reading all the time—at breakfast, while blow-drying my hair, eating lunch, and as soon as I got home from work. My boyfriend complained that he felt ignored because my nose was buried in a book all the time and I barely ever talked to him. I started to protest before I realized that he was absolutely right; nothing existed outside of these books. "Real life" was almost a nuisance. I grimaced and said, "I'm sorry…let me just finish this chapter…"
Reading these books as an adult has given me a new perspective on them and also makes me keenly aware of how multi-faceted and genius they really are. They're like a Pixar movie or a juicy YA novel: written for kids, but equally as entertaining for adults.
I also felt a pang of nostalgia while reading them, though I'm not sure what that nostalgia was for. I am of the generation that grew up with computers and technology, but didn't get Internet until I was in middle school. I didn't grow up with a cell phone because my parents had a car phone. My brother and I had a Game Boy, but we spent most of our free time swimming and playing outside with the neighbor kids. I straddle two worlds; I remember what it was like to not have the technology we do today, yet I still feel like a digital native.
Today I'm tied to my computer and my iPhone. Most of my communication with other people at work is through email and I text more than I telephone. And when I think about this, I despise myself.
The truth is, I'm jealous of Laura Ingalls. I'm jealous of her family's simple life. They were so close as a family. The Ingalls clan was insular, self-sustaining; they spent afternoons in the same room reading to each other or knitting or cooking dinner together. Their survival hinged on their ability to work together, to twist hay sticks for fuel, make soap for laundry, and knit socks for winter. For entertainment, there weren't endless episodes of television on Netflix to zone out to; instead, Pa played his fiddle at night and they all sang together, or Ma read Youth's Companion stories around the warm stove. Who does that anymore?
Today, there are very few places where cell service can't reach us. And reading Laura's books again has made me wonder if we've lost our ability to feel closeness with our families. Parents nowadays have toddlers who swipe left at physical books because they've held iPads in their hands almost since birth. Are we losing that sense of interconnection because of our increasing ties to the outside world? In this fast-paced modern age, sometimes it's all I can do to look up and see the sky and marvel.
No, we will never be able to go back to Laura Days, but rereading these books has made me more mindful of not only my digital habits, but how I relate to and connect with the world and the people around me. At the very least, it has made me stop and sniff the air, the trees, the ocean, to be in this moment—and not play Candy Crush on my iPhone. I can't be a pioneer, but I can be present. I can't milk the cow and churn my own butter, but I can cook and eat nourishing food instead of popping a frozen Trader Joe's Mac and Cheese in the microwave for dinner. I probably won't read Youth's Companion stories out loud to my boyfriend and my cat, but we can cuddle on the couch together and read a book instead of silently checking Facebook for the bazillionth time. And that's what Laura's books taught me the second time around.